Welcome to "The Dog Beautiful"
We, the Fanciers of the Breed of the American Eskimo Dog, in order to promote the quality breeding, competition, protection, and benefit of purebred American Eskimo dogs; to hold annual conformation shows, to sponsor obedience, agility, rally, herding and other performance events when authorized by AKC; to promote the Standard of the American Eskimo Breed, and for these purposes to establish an efficient and ethical not for profit corporate structure pursuant to applicable provisions of law, sound management and financial practices, and principles of faithful stewardship; do hereby ordain and establish these Bylaws of the American Eskimo Dog Club of America, Inc.
Remembering Inuk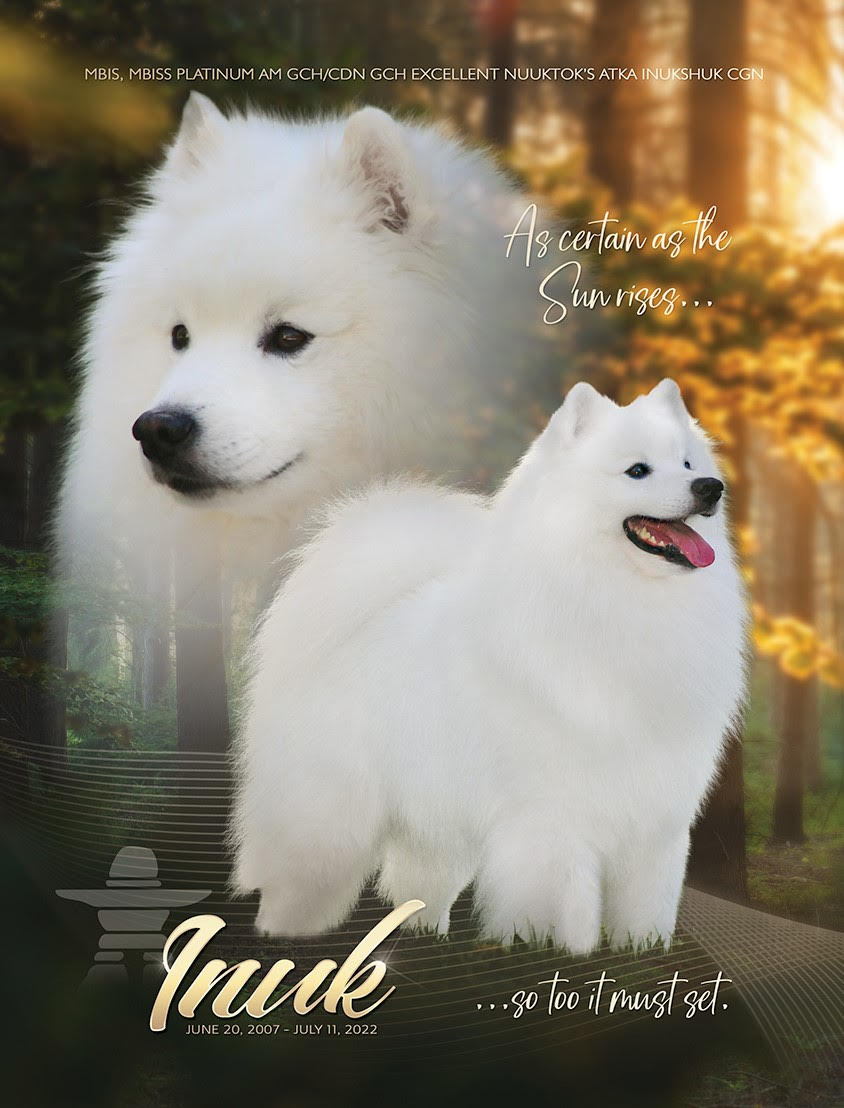 AKC Platinum GCH, CKC GCh Excellent, UKC GCh. Nuuktok's Atka Inukshuk
You came into our lives, for a little while.
You left footprints on our hearts, and we will never be the same.
It is doubtful that there will ever be another as great as he... So much can be said about this great ambassador of the American Eskimo Dog breed but in particular; consideration must be given to his enviable - and still unequalled - conformation show record:
8 National Specialty Best of Breeds awarded
10 Westminster Kennel Club Best of Breed wins
Multiple AKC, CKC and UKC Best in Show awards
First American Kennel Club 'Platinum Grand Championship' awarded to an American Eskimo Dog
His presence and record in the show ring paved the way for other Eskies to come...as 'He' established the breed as a formidable contender in the Non-Sporting group - and dog fancy - as a whole.
As much as Inuk was to the Eskie breed and showing - all the wins and "bests" were unmatched by the love I held for him! He was my best friend...my confidant and my family. I miss him terribly! You may be gone from my sight, but you are never gone from my heart my baby boy! - Sharon Robertson